Welcome to the Monroe County R/C Club Web site!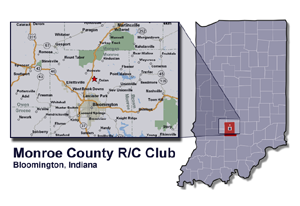 A map of Indiana, highlighting the city of Bloomington within Monroe County.
The MCRCC is an AMA (Academy of Model Aeronautics) chartered club, flying out of Bloomington, Indiana.
The main purpose of our club is to propagate the wonderful sport of model aviation, and to provide our members with the opportunity to learn and enjoy radio controlled flight. We also host various club functions, fly-ins, contests, etc.
Our club accommodates a diverse group of flyers and an assortment of aircraft types, including:
Fun-flyers
Ducted fans
Helicopters
Pattern flyers
Pylon racers
Scale flyers
Sport and/or recreational flyers
Trainers
Turbines
To learn more about our club, and the sport of model aviation, make a selection from the navigation bar, located on the right.
Announcements
BEGINNING OCTOBER , 2020 OUR CLUB MEETINGS WILL BE THE SECOND TUESDAY OF EACH MONTH
The November newsletter is now available. Stay Safe...
Next Club meeting: Tuesday, December 8, 2020
Due to an executive order by the Mayor of Bloomington, the next club meeting (TUESDAY, DECEMBER 8, AT 7:00 PM AT CLARITI ADVANCED VISION) is limited to no more than 15 masked people attending in person. Due to our in-person meeting limit, we will again simultaneously host a ZOOM virtual meeting, which has been very successful in past meetings. One of the club officers will send an email a day or so before the club meeting, which will contain a link to the ZOOM virtual meeting. We will use ZOOM through the end of 2021, so watch this space for updates. Thank you for your help in keeping our club members safe.
January through November club meetings:
Club meetings are held the 2nd TUESDAY of each month at 7:00 PM. June through September meetings are held at the club flying site and club meetings October through May are held at the Clariti Advanced Vision, 481 S. Landmark Ave., Bloomington, Indiana. Please note: all club meetings during 2021 will be simultaneously hosted as ZOOM virtual meetings. Please contact a club officer for more information. The public are welcome.
First time RC flyer? Are you interested in learning to fly RC airplanes, helicopters, or drones?
KNOW BEFORE YOU FLY is an educational campaign to prepare prospective users for the safe and responsible operation of unmanned aircraft systems.
Know Before You Fly
FAA Registration: Unmanned Aircraft registration for all unmanned aircraft has been reinstated.
To register or renew: Go to FAA Unmanned Aircraft Registration Most of you will register or renew under Section 336. For video instructions to register with the FAA CLICK HERE
Indiana RC Flying Site Locations
Map of Flying Sites
Check out the Photo Gallery
Club Photos
Check out the Big Bird Fly-in Video
YouTube Video
Check out the NATS Pylon Racing Video
YouTube Video